Please join us online
ICUJP Friday Forum
June 24th, 7:30-9:30 am Pacific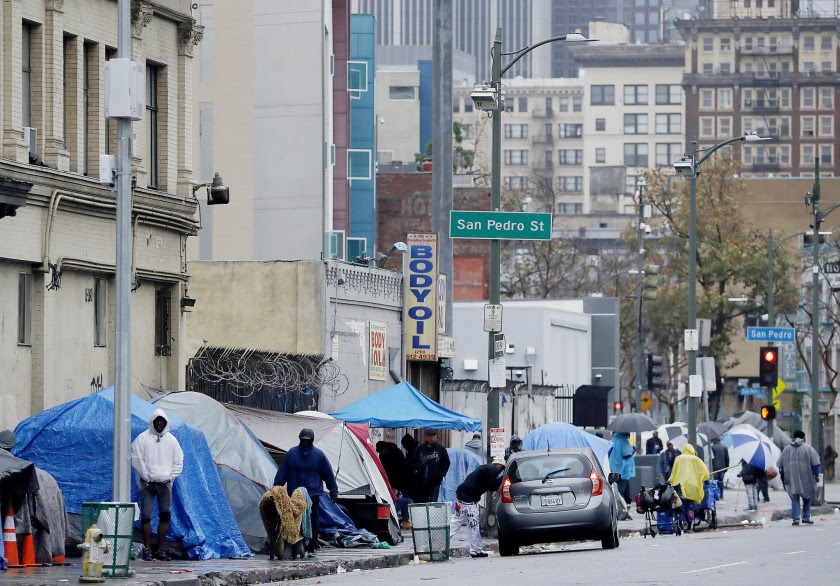 Skid Row and How to Solve America's Homeless Problem
Description: A 25-minute discussion on how to solve America's homeless problem with "Skid Row" as the center-point!

Melvin Ishmael Johnson. Founder of Dramastage-Qumran and Veterans Community Theater Workshop. Born December 1, 1947, in Greenville, Mississippi. Graduated from Coleman High School (1966). United States Marine Corp (1969-71).
After being honorably discharged from the services attended Eastern Michigan University. One of the Co-Founders of the African Renaissance Theater Company of Detroit, Michigan. (1973-1980) Author of plays: Voice from the Village, Bright New Day, Surviving the Nickel, Catch the Tiger, Number One Recruit, Nail Heads and The Emperor's Last Performance. Co-Author: The 101 Club with Judith Bowman and If the SHU Fits: Voices from Solitary
Confinement with Andy Griggs. Developed the Anti-Violence Situation Coping Group as a conflict resolution group for military veterans and author of the play, Soldier to Soldier about homeless military veterans. *Host of the weekly Internet radio show: The Qumran Report
(qumranreport)
IMPORTANT - Your Ideas Needed to Strengthen Our Committee!
Join us
after the July 1 Friday Morning Forum
to
offer your ideas on strengthening
our committee work
. We are contracting them from three Fridays per week to one, consolidating the Program Committee, the Outreach/Advocacy Committee, and Working Group on Ending Systemic Racism into one committee whose work will be really productive because it had your ideas to help direct its formation.
-----
Passing the Virtual Bucket
We can't pass the bucket in person, but ICUJP still needs your support. Please give as generously as you can:


• Text a gift amount to 323-701-1467
• Send a check to ICUJP c/o Rod Sprott, Church-Biz, 1125 N Fairfax Ave #46836, LA 90046

Thank you!

----------
Help Support Families in Need

The need for Immanuel Presbyterian's Food Pantry is greater than ever. Please donate here. Thank you
Schedule:

7:30 - 7:35  Log in and socialize
7:35 - 7:45  Welcome and introductions 
7:45 - 7:50  Reflection (5 min. maximum)
7:50 - 9:15  Program and Q&A
9:15 - 9:20  Announcements
9:20 - 9:30  Closing circle and prayer
Start your morning with us!
Reflection: TBD
Facilitator: Jasmine Hailey
Zoom host: Rick Banales

** Meetings begin promptly at
7:30 am Pacific.
 **
Here's how to join the online meeting:
To join by video conference, you'll need to download the Zoom app on your computer or mobile device. Click on the link to join the meeting and then enter the Meeting ID number and passcode. You'll be able to see slides and video, as well as speakers and other attendees.
If you prefer to join by phone, you'll be prompted to enter the Meeting ID number and passcode. You won't be able to see the visuals or attendees, but you can view them on the meeting video recording afterward. 
If you're new to Zoom and would like to use the video option, we recommend you download the app well ahead of time.
ICUJP Friday Forum 6/24/22
Time: 07:30 AM Pacific Time (US and Canada)
Option 1: Join video conference here

Meeting ID:822 1749 5506
PASSCODE:139363
Option 2: Dial in by phone only:
+1 669 900 6833 US (California)
Meeting ID: 822 1749 5506
PASSCODE: 139363
(To find a dial-in number closer to you, go here.)
-----
Please note: Our Friday Forums and other events are open to the public. By attending, you consent to having your voice and likeness recorded, photographed, posted on ICUJP's website and social media, and included in ICUJP materials and publications for noncommercial purposes. If you don't want to be photographed or recorded, please let the facilitator know.

WHEN
June 24, 2022 at 7:30am - 9:30am