Please join us online
ICUJP Friday Forum
June 3rd, 7:30-9:30 am Pacific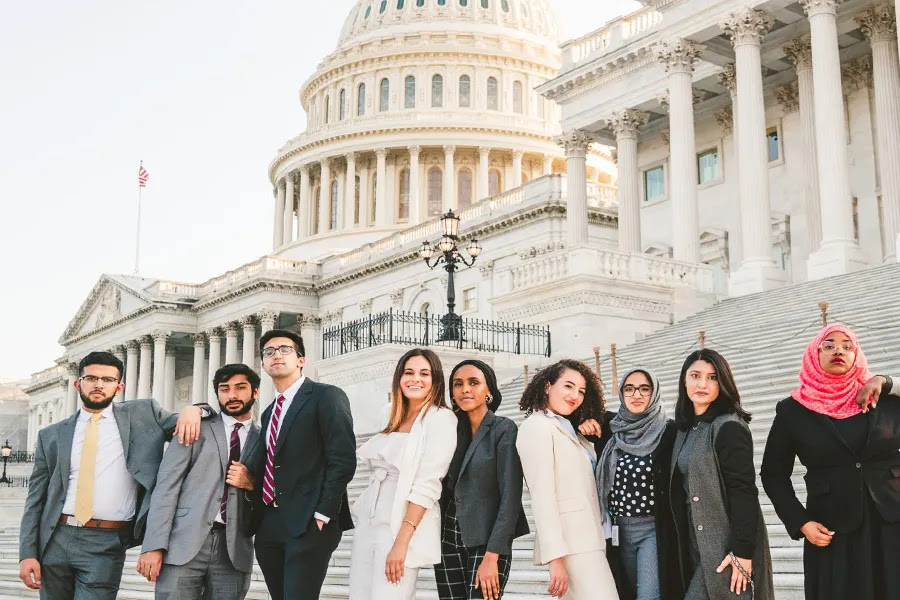 How Anti-Muslim Animus is Fueling the Great Replacement Conspiracy Theory
Description: The discussion will center around the narrative of the replacement theory that is being pushed by right-wing media, that Jews are financing Muslim immigrants to take over America. This theory began in Europe when a French ethno-nationalist coined the idea of "Eurabia" and is spreading around the globe. Working together toward a pluralistic democracy is the counter-narrative that deflates the idea that Muslims are here to replace white civilization.

Salam Al-Marayati is President and co-founder 
of the Muslim Public Affairs Council (MPAC). 
Nationally recognized for his commitment to 
improving the public understanding of Islam 
and policies impacting American Muslims, 
he oversees MPAC's groundbreaking civic 
engagement, public policy, and advocacy work.
An expert on Islam in the West, Muslim reform 
movements, human rights, democracy, national 
security, and Middle East politics, Salam has 
spoken at the White House, on Capitol Hill, and 
represented the U.S. at international human 
rights and religious freedom conferences.
Salam is an adjunct faculty member at Bayan Claremont, a board member of the Muslim Reform Institute, and an advisor to several
political, civic, and academic institutions seeking to understand the role of Islam and Muslims in America and throughout the world.
Deeply involved in interfaith activities, Salam was co-chair of the Interfaith Coalition to Heal Los Angeles, which formed in the wake of the 1992 uprisings.

Salam's writings have appeared in every major national news publication including the New York Times, Wall Street Journal, Washington Post, and Los Angeles Times. He has been interviewed on
national and international news outlets including CNN, MSNBC, Fox News and C-SPAN.
Here's how you can help:
ICUJP can help by uniting with us to build a movement to silence false narratives about other humanities.
Learn More: Muslim Public Affairs Council - mpac.org
-----
Passing the Virtual Bucket
We can't pass the bucket in person, but ICUJP still needs your support. Please give as generously as you can:


• Text a gift amount to 323-701-1467
• Send a check to ICUJP c/o Rod Sprott, Church-Biz, 1125 N Fairfax Ave #46836, LA 90046

Thank you!

----------
Help Support Families in Need

The need for Immanuel Presbyterian's Food Pantry is greater than ever. Please donate here. Thank you
Schedule:

7:30 - 7:35  Log in and socialize
7:35 - 7:45  Welcome and introductions 
7:45 - 7:50  Reflection (5 min. maximum)
7:50 - 9:15  Program and Q&A
9:15 - 9:20  Announcements
9:20 - 9:30  Closing circle and prayer
Start your morning with us!
Reflection: Veda Veach
Facilitator: Rick Banales
Zoom host: Dave Clennon

** Meetings begin promptly at
7:30 am Pacific.
 **
Here's how to join the online meeting:
To join by video conference, you'll need to download the Zoom app on your computer or mobile device. Click on the link to join the meeting and then enter the Meeting ID number and passcode. You'll be able to see slides and video, as well as speakers and other attendees.
If you prefer to join by phone, you'll be prompted to enter the Meeting ID number and passcode. You won't be able to see the visuals or attendees, but you can view them on the meeting video recording afterward. 
If you're new to Zoom and would like to use the video option, we recommend you download the app well ahead of time.
-----
Please note: Our Friday Forums and other events are open to the public. By attending, you consent to having your voice and likeness recorded, photographed, posted on ICUJP's website and social media, and included in ICUJP materials and publications for noncommercial purposes. If you don't want to be photographed or recorded, please let the facilitator know.

---
UPCOMING FRIDAY FORUMS:
Jun 10 - ACLU -  "Housing is a Human Right" - Support the House LA Ballot Measure
WHEN
June 03, 2022 at 7:30am - 9:30am
WHERE
Online Zoom Meeting

Who's RSVPing