Please join us online
ICUJP Friday Forum
September 2nd, 7:30-9:30 am Pacific
WHY WE NEED TO TEACH PEACE AND JUSTICE IN AMERICA'S PUBLIC SCHOOLS
Description: Just when students in the United States are most in need of learning the best and the worst in American history, the right of teachers to teach free of censorship and government interference is under assault.
Join us for a timely discussion exploring these vital issues. Why do students deserve to learn about peace and justice, as much as reading, writing, and arithmetic? How has the American educational system addressed the teaching of peace and justice and how can it do a better job? What happens to teachers who try to teach outside the patriotic boundaries of permitted material? How has the training of teachers in the United States perpetuated White Supremacy? What's behind efforts in Congress and state legislatures to ban the teaching of The 1619 Project, Critical Race Theory, and a People's History of the United States? How can we fight back? https://www.aclu.org/press-releases/florida-educators-and-students-file-lawsuit-challenging-stop-woke-censorship-law
Join the discussion with our speaker: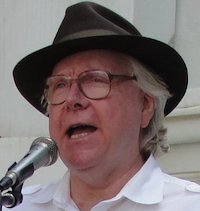 Stephen Rohde is a lecturer, writer and political activist and retired constitutional lawyer. In addition to his role as a founder and Chair of ICUJP, he is a past Chair of the ACLU Foundation of Southern California, past Chair and bosrd member of Death Penalty Focus, and Chair Emeritus of Bend the Arc: A Jewish Partnership for Justice. Steve authored the books American Words of Freedom and Freedom of Assembly and is co-author of Foundations of Freedom, published by the Constitutional Rights Foundation. He has written for the Los Angeles Times, Los Angeles Daily Journal, Ms Magazine, American Prospect, Los Angeles Lawyer and is a contributor to Los Angeles Review of Books. For over 45 years, Steve practiced law first in New York and then in Los Angeles, specializing in communications and intellectual property law, civil and appellate litigation and constitutional and civil rights law. A graduate of Northwestern University and Columbia Law School, he has been honored for his work by the American Bar Association, the ACLU, the Beverly Hills Bar Association, and Bend the Arc.
SAVE THE DATE!
Pursuing Justice and Peace
ICUJP 2022 George F. Regas Courageous Peacemaker
Virtual Awards Presentation
Sunday, September 11, 2022 • 4:45-6:00 pm
(Live Streamed Online)
Schedule:

7:30 - 7:35  Log in and socialize
7:35 - 7:45  Welcome and introductions 
7:45 - 7:50  Reflection (5 min. maximum)
7:50 - 9:15  Program and Q&A
9:15 - 9:20  Announcements
9:20 - 9:30  Closing circle and prayer
9:35 - TBD Board Meeting
Start your morning with us!
Reflection: Steve Rohde
Facilitator: Phil Way
Zoom host: David Clennon

** Meetings begin promptly at
7:30 am Pacific.
 **
Here's how to join the online meeting:
To join by video conference, you'll need to download the Zoom app on your computer or mobile device. Click on the link to join the meeting and then enter the Meeting ID number and passcode. You'll be able to see slides and video, as well as speakers and other attendees.
If you prefer to join by phone, you'll be prompted to enter the Meeting ID number and passcode. You won't be able to see the visuals or attendees, but you can view them on the meeting video recording afterward. 
If you're new to Zoom and would like to use the video option, we recommend you download the app well ahead of time.
ICUJP Friday Forum 9/2/22
Time: 07:30 AM Pacific Time (US and Canada)
Option 1: Join video conference here

Meeting ID: 827 8369 2781
PASSCODE: 389868
Option 2: Dial in by phone only:
+1 669 900 6833 US (California)
Meeting ID:  827 8369 2781
PASSCODE:389868
(To find a dial-in number closer to you, go here.)
-----
Please note: Our Friday Forums and other events are open to the public. By attending, you consent to having your voice and likeness recorded, photographed, posted on ICUJP's website and social media, and included in ICUJP materials and publications for noncommercial purposes. If you don't want to be photographed or recorded, please let the facilitator know.

---
UPCOMING FRIDAY FORUMS:
SEP 9: LINDA SEGER - Book "Beyond Linear Thinking"
WHEN
August 30, 2022 at 6:00pm - 9pm